Vehicle Lettering
If you've got artwork, a logo, and have selected fonts and colors, great! If not, no worries: we'll happily work with you to develop these for your unique look. And in either case, we'll lay out all the text and design elements to make the most effective use of the space on your vehicle. Once you've approved the final layout, we'll cut everything from high performance, long-lasting vehicle vinyl and install it expertly.
Vehicle Wraps
Here's where our designers really get to flex their creative muscles, and put their experience to work. We'll start by interviewing you to be certain we share your vision for your "mobile billboard", and then get to work on creating a wrap design tailored specifically to your vehicle (or vehicles). Upon your final approval, we'll print it on 3M wrap vinyl (the industry's gold standard), protect it with a matching 3M lamination, then trim and prepare the wrap for installation by one of our certified installers.


Site & Monument Signs
Whether you need something portable or permanent, large or small, illuminated or not, we'll design your message and then select from a broad array of materials – plastics, metals, wood, and masonry – to meet your specific needs and budget.
Store Signage
How is your business dressed? What image does it present to your potential clients? We'll work with you to design an integrated appearance for your storefront, utilizing new (or retrofitting existing) signs and/or awnings, and making effective use of window and door graphics.


Channel Letters & Light Boxes
These high impact, illuminated signs are working hard for you day and night. We'll determine the size and space available to you, and then design the most effective way to convey your company name or logo. We'll also handle the installation, including all electrical work, for a complete turnkey project.
Trade Show Displays
You may not be quite certain about what might be the best display, or combination of displays, for your particular situation. You may have seen some displays that you like, but aren't sure how they work or what they might cost. You may have a fixed budget, and aren't certain how to make the most effective use of your resources.
We're here to help. And make no mistake, we want to provide the exhibits and displays that will be just right for you. But we don't want to SELL them to you – we would like you to BUY them from us. A subtle difference, perhaps, but that difference is the basis on which we've built this company. And we've been doing it for over eight years. Visit our sister site ExhibitSource (under the image below) or go there directly.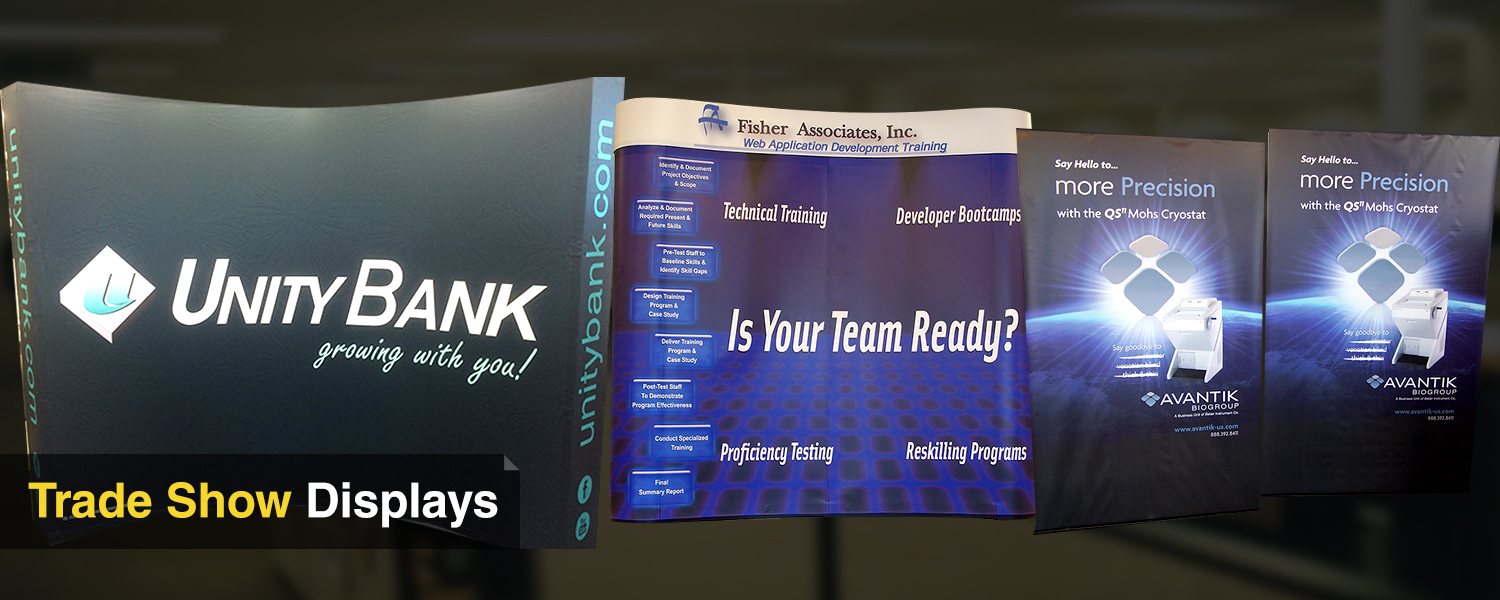 <iframe src="https://exhibitsourceus.com/" style="width:100%; height:590px; border:2px solid #FAD105"></iframe>